About Our Residential and Commercial Interior Designer
The firm of Nancy Kuhn Residential and Commercial Interior Designer was founded in 1992 by Ms. Kuhn. She is a published, ASID Houston Chronicle Award-winning Interior Designer in Houston, Tx. Additionally, she can claim over 30 years of creating custom interiors for her clients. Projects have included banks, law firms, engineering offices, medical offices, churches, executive offices and corporate headquarters, as well as, retail stores, healthcare facilities, and custom homes in Houston and throughout the United States. Finally, the firm's projects have been published in national magazines. They have also been sited cited by awards, including the American Society of Interior Designers (ASID).
Education & History
Ms. Kuhn is a graduate of the University of Houston with a B.A. degree in Fine Arts. She is licensed by the Texas State Board of Architectural Examiners. Continuing studies include numerous courses related to color, barrier free and environmental design. Additionally, continuing education and attendance at furniture and accessory markets and national design conferences, keep the firm abreast of the latest trends and product development in interior design.
A native Houstonian, Ms. Kuhn is a long-time community and civic leader in her hometown. She serves on numerous civic and charitable boards.
Our Firm
The interior design firm of Nancy Kuhn Design in Houston is not limited to new construction projects. Far from it. Over the years hundreds of remodeling projects have been added to our portfolio. We remodel bathrooms and kitchens, bedrooms and bath suites. We have added home theater rooms, redesigned living and dining rooms and worked closely with clients to recapture space once their children have left the nest. Additionally, for our customers with young children, we provide a much needed source of custom slipcovers. Furthermore, if you no longer desire drapery treatments on your windows, we have numerous resources for custom blinds, shutters and window shades.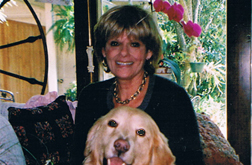 Nancy and Champ
We Support: The Houston Humane Society, The Animal Rescue Site, and Golden Beginnings