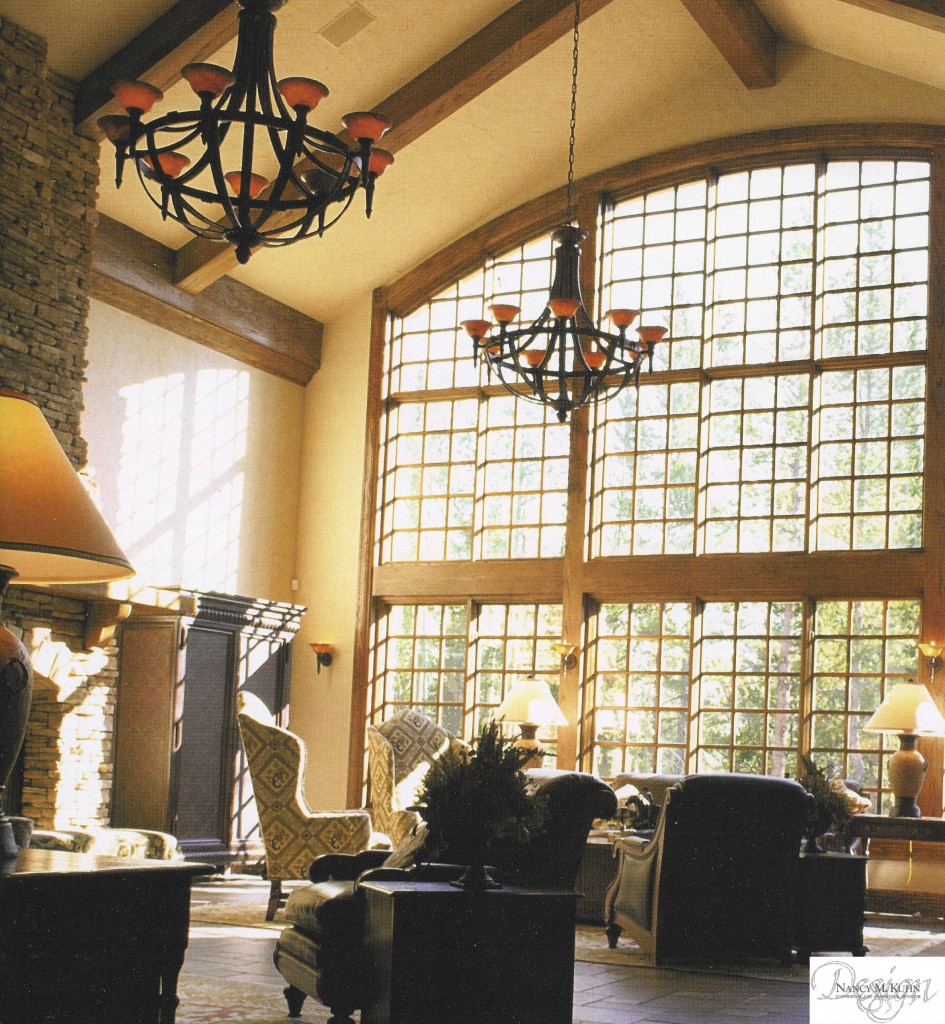 Colorado Retreat – Interior Design Elements
An avid skier, it is no surprise that this client chose Breckenridge, Colorado, a ski resort, as the place to build a retreat. The 9000 sq. ft. residence was built for the present with the idea that it would become a home for year-round living at retirement. The great room, which is 80 feet long, presented many challenges with it's 25 foot ceilings, massive walk-in style fireplace and two enormous arched windows designed to bring the mountain views inside. We determined that two seating areas were needed. The first was arranged in front of the massive walk-in-style stone fireplace. The second was arranged in front of the two windows. To bring the outdoors in, we selected green leather for the antique sofas and lounge chairs, which contrasted with the dark wood of furniture hand-made in England and added tall wing chairs upholstered in an English pattern. To tie all the areas together, we chose to make the walls a warm, golden stucco finish. The wall treatment goes throughout the house to provide a consistent, coherent style, which was played off using accessories and different accent colors. Interior floors are done in knotty oak and imported Italian tile which looks like stone.
There are huge oak moldings and door and window casings; the doors on the interior use solid 2-inch thick oak. The hardware is all cast of solid antique bronze. The interior walls are in distressed plaster (masonry stucco), giving the rooms a very old world feeling. Some of the interesting features of this home are: the English custom made dining room table that allows plenty of room for holiday gatherings; a theater with an arcade decorated with old neon signs; a billiard room with a Western art collection; and a piano room with wildlife art that depicts animals whose natural habitat is that particular part of Colorado.
Images